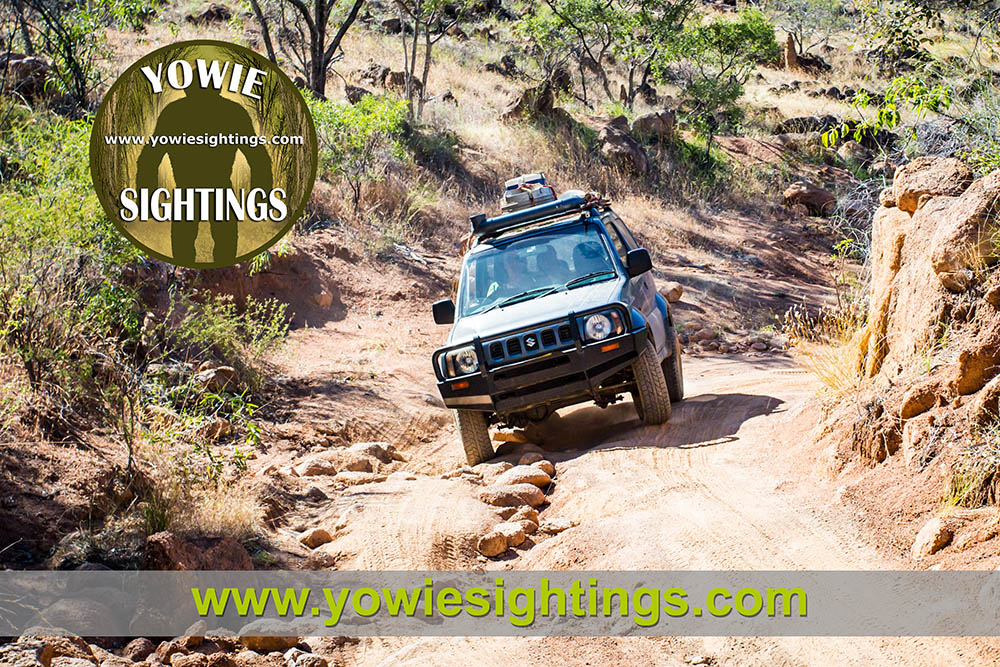 Yowie Sighting QLD November 2019
Giligulgul rd near Cherwondah State Forest
Travis and his 13y.o. son Peter were traveling along a dirt road, Giligulgul rd, which runs alongside the Cherwondah State Forest in the Woleebee district of QLD in November 2019. This is the story of their Yowie encounter as told by Travis
"I was driving in our old 4WD along Giligulgul rd late in the afternoon with my son Peter and our trusty blue cattle dog named "Ringer". We stopped on the dirt road to check the tyres and found we had flat back tyre.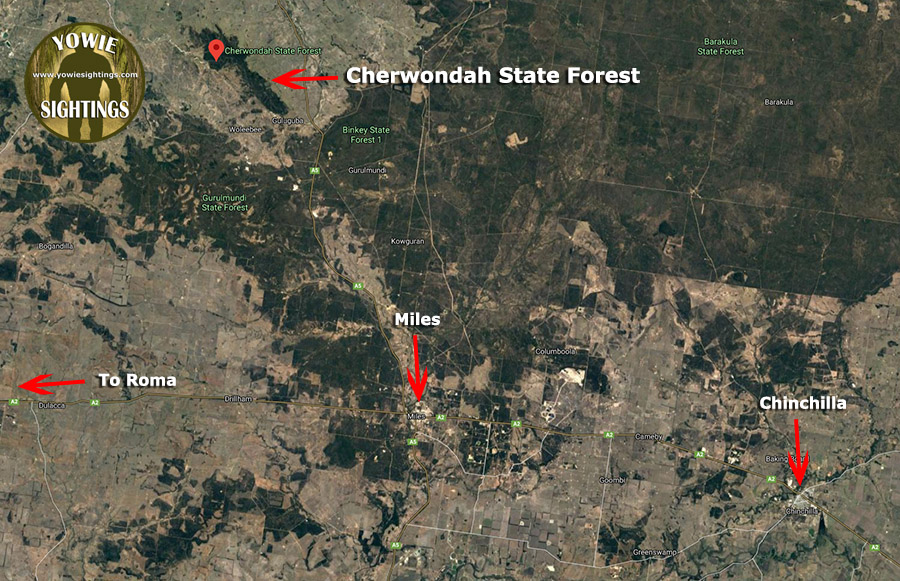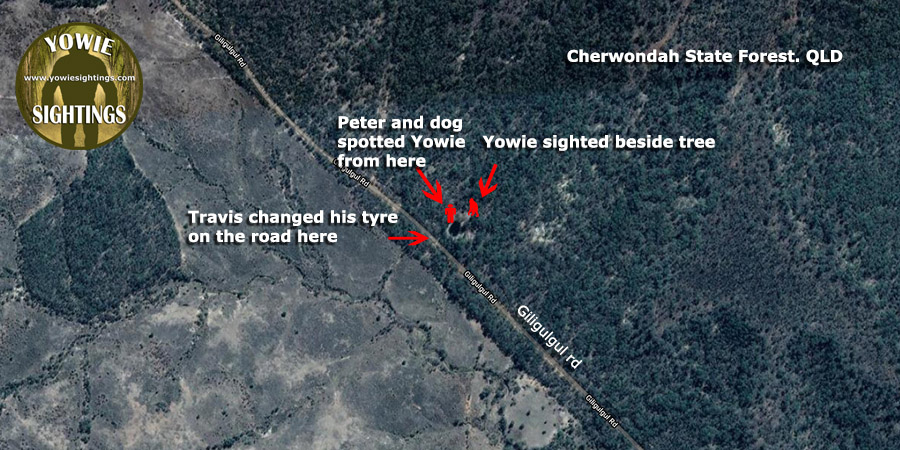 I set about changing the tyre and Peter wandered across the road with Ringer. It had been about 15 minutes or so and I finally got the spare tyre on and had just tightened up the nuts when I heard Peter call out from the scrub across the road. He had gone into the bush and I could hear him running back to the truck. At this point, our dog comes running really fast out of the bush and over to the car and I could see he was very agitated and the hair on its back was raised. I told him to settle down but he just kept pacing back and forth with not much acknowledgment of what I was saying. Peter finally came running into view and his eyes were as big as saucepans as he ran over to the car. He was shouting very quickly, "there's a big creature in there", "it's hiding in the trees near the dam". I told him to slow down and asked what did he see. He repeated what he just said and added that "Ringer saw it first and got really scared while he was staring across the dam at the bushes, and bolted off when something moved and when I looked into the bush again where Ringer had been watching it was standing beside a tree staring straight at me, its a massive hairy monster, I had to run".
I knew they had seen something and our dog's reaction really convinced me my son was fair dinkum. I asked Peter to point to where they had run from and as I went to look where they had been, Peter said to me very anxiously don't go, Dad. I didn't go far and I couldn't see a thing in the late evening light even with the torch I had grabbed out of the truck. I walked back to the truck and I didn't think much of it at the time but I could smell a really bad odour like a fresh road kill that had just begun to rot but more intense. You often smell dead Roo's on the side of the road out here and I just passed it off as a dead cow or something. I asked Peter to describe what he saw and he explained it was a big tall creature with black hair standing beside the tree and staring at him. I said to Peter, are you sure it wasn't a shadow? He quickly responded it started to move from one foot to the other.
I was struggling to understand what Peter could have seen but I had an uneasy feeling and I decided we should all get back in the truck and head off. I didn't hear a word out of peter all the way back to the property.
It wasn't until a month or so later when I was talking to a fellow farmer, Stan, who lives in the region and was telling me about something strange that had been seen around cattle yards that I realized what Peter had seen. Stan had said some of the farmhands had seen a big hairy creature around the yards early one morning which disappeared across the paddock and into the bush as they approached the yards. The farmhands had told Stan they couldn't believe what they were seeing and they gave chase but lost sight as it disappeared into the scrub. They could hear some crashing through the bush as the creature disappeared from sight. Stan said they reckoned it was a Yowie with a disbelieving look on his face and I told him about what Peter had seen. I had a vague recollection of the term Yowie mentioned in relation to aboriginal culture and never knew what it was but after doing a bit of research I now believe this is what Peter had seen."
This is an interesting series of sightings and just to add to this we have received another report from the same region of a large dark creature crawling on all four limbs around another farmer's cattle yards which he initially mistook to be a large panther until he saw it rise on two legs. We wonder if more of the black panther sightings could well be Yowie on all fours. We'll post this report to the blog soon.
Yowie sighting reports published on our blog are provided as-is. We don't publish reports received until we have interviewed the witness or witnesses either in person or by phone.
Leave a Yowie sighting report
If you would like to share a Yowie sighting report please email This email address is being protected from spambots. You need JavaScript enabled to view it.