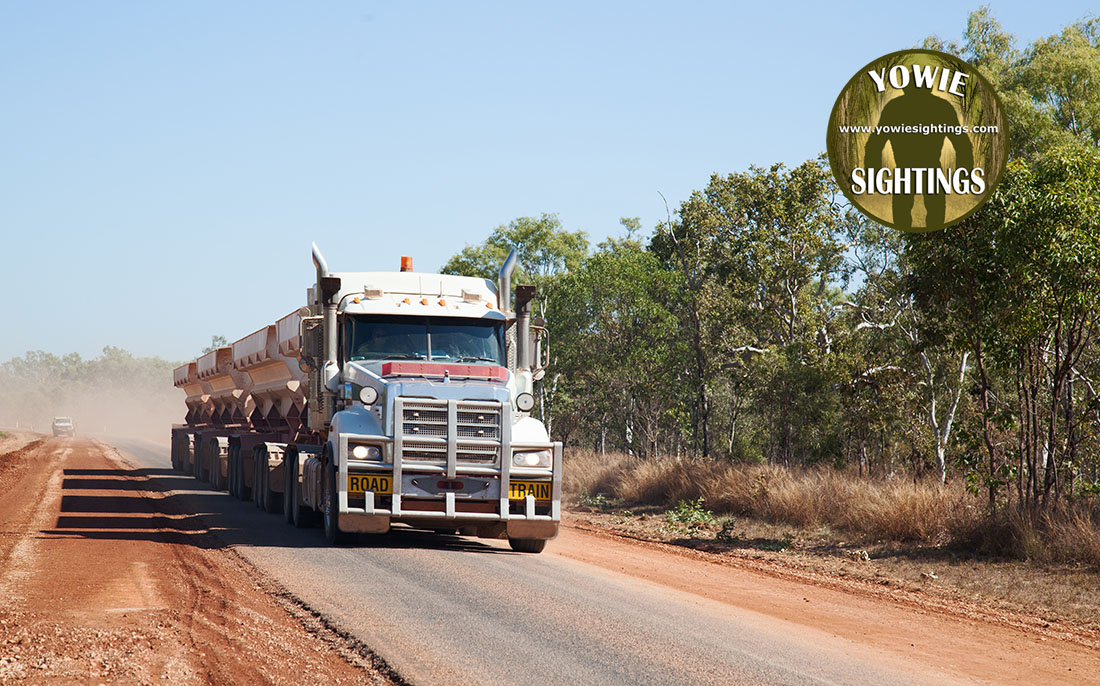 Darr Creek Howler Yowie encounter
Truck driver Steven recalls strange howls when he pulled off the road to check his load at Darr Creek in QLD in June 2018. Darr Creek is located in the Western Downs region of QLD and has a population of 18, possibly more according to Peter's account. Here is Peters account accompanied by a second report and sighting in the same region
Yowie Encounter Chinchilla Wondai rd QLD
I've been driving trucks for years and on this night I had been driving a load from Roma to Gympie in Queensland. It was about 2 am when I decided to pull over for a brew and check the load as there was a very bumpy section of the Chinchilla Wondai road ahead.
I pulled over at a location I'd stopped at several times over the years. I shut the engine down and sorted out a snack and a cuppa and climbed down out of the truck to stretch my legs. The night was so silent with a slight chill in the air and it had been about 10-15 minutes since I pulled up when I began to hear what I thought was an owl in the distance. I didn't think much of it but it sounded quite strong for the distance it was away. I had just poured a second cup from my thermos and the hoot sounded again but this time a second hoot sounded immediately after it but from an entirely different direction. I thought the owl had flown quickly to another location and hooted. Several minutes passed and the hoots began again with a third hoot. I was now hearing hoots from 3 separate locations.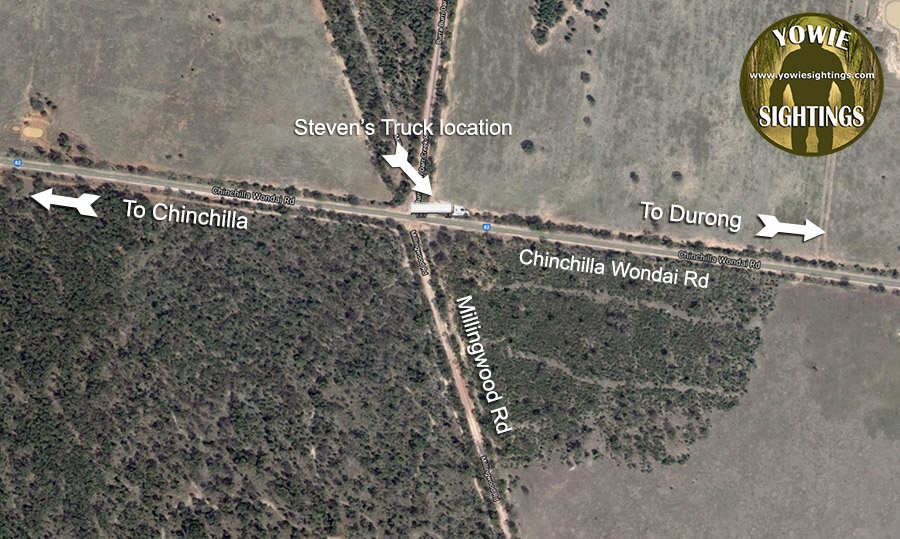 I still didn't think much about the hoots but thought they sounded a bit weird. The night went silent again for maybe 10 minutes and as I checked around my rig I heard an incredible wailing howl like noise off in the distance break the silence that lasted many seconds and would have been heard for miles around. This came from roughly the same direction as the first hoot I heard. I thought there was a sick cow somewhere nearby as cattle grazed all around the area I had stopped in but the strength of the sound was incredible. I thought to myself a sick cow wouldn't howl for so long and then a second long howl broke the silence. It sounded louder and closer but still a fair way away from my location. I had become a little perplexed after the second howl as I've been around cattle in one way or another all of my life and yet these sounds were not normal.
I heard another long howl and from another direction, a couple of the hoots similar to what I'd heard earlier and feeling a little creeped out I decided to jump back in the cab and head off.
Yowie Sighting Chinchilla Wondai Rd QLD
I never thought much more about this experience until I was speaking to a mate a fellow truckie, Gordon, who told me about a large creature he'd seen early one-morning several months before on the side of the same road several kilometres from where I'd heard the strange noises. I hadn't yet told him of my experience on the roadside and Gordon explained that he'd been traveling along the same road when he came across a huge creature that looked like it was picking up a dead kangaroo. He explained that as he approached the creature he thought he was looking at a cow from behind and it had the same rusty red colour you see in some cattle. As he got closer and his headlights lit the scene better, the creature stood upright on two legs like a man and was so massive that it could have looked into the truck's cabin even though it was standing in the culvert on the side of the road. He explained that as he passed by the creature turned towards the road but he had passed by before he could get a good view and by the time he had slowed his rig down he couldn't see anything on the roadside behind. The creature had vanished. He told me that others told him it was a Yowie and then I mentioned my experience and asked what he had been told about a Yowie as I knew nothing. I didn't know about Yowies when I had my experience but in hindsight, I now believe what a was hearing was at least two of these and possibly three.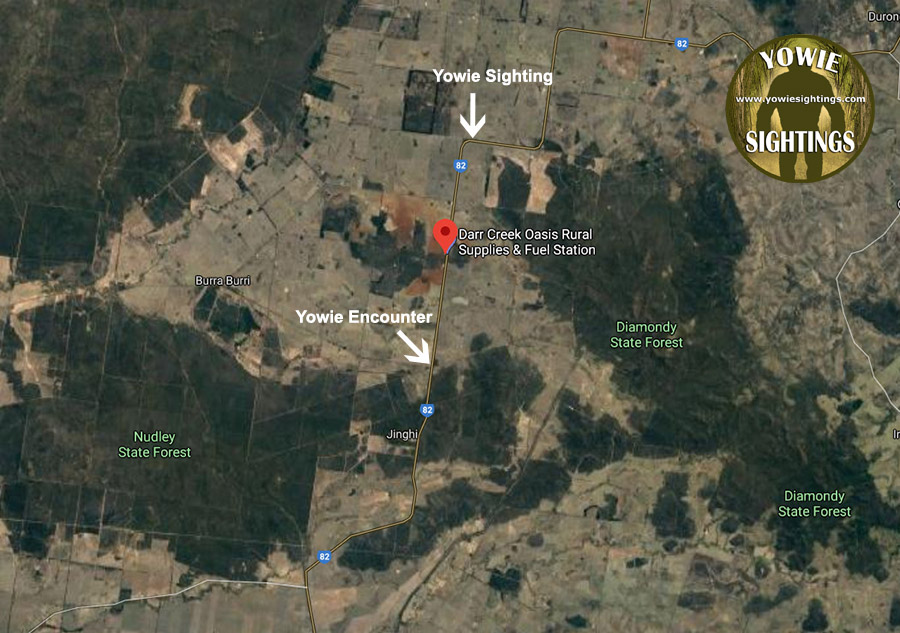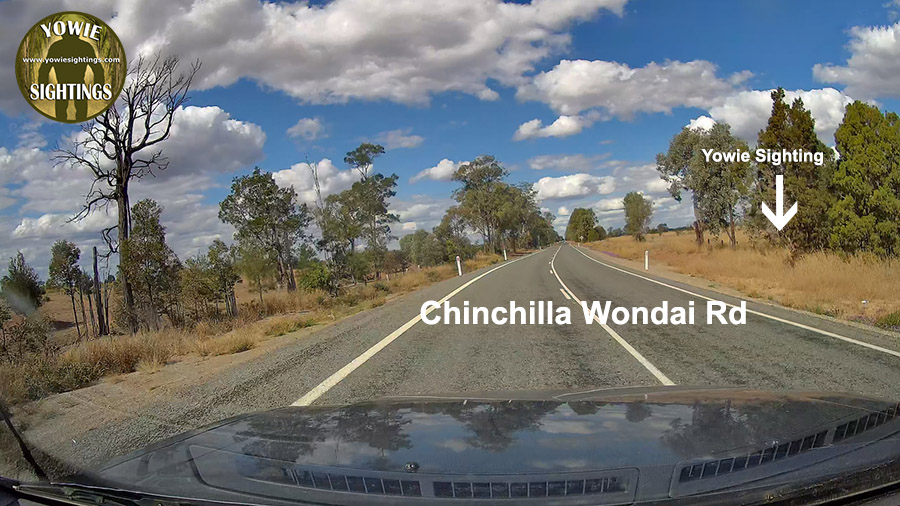 A very interesting Yowie encounter with Steven and then from Gordon!!
Yowie sighting reports published on our blog are provided as-is. We don't publish reports received until we have interviewed the witness or witnesses either in person or by phone.
If you have a Yowie sighting or encounter you would like to share and help with our research please leave some details below and you can also attach any photos to support your account if you wish.