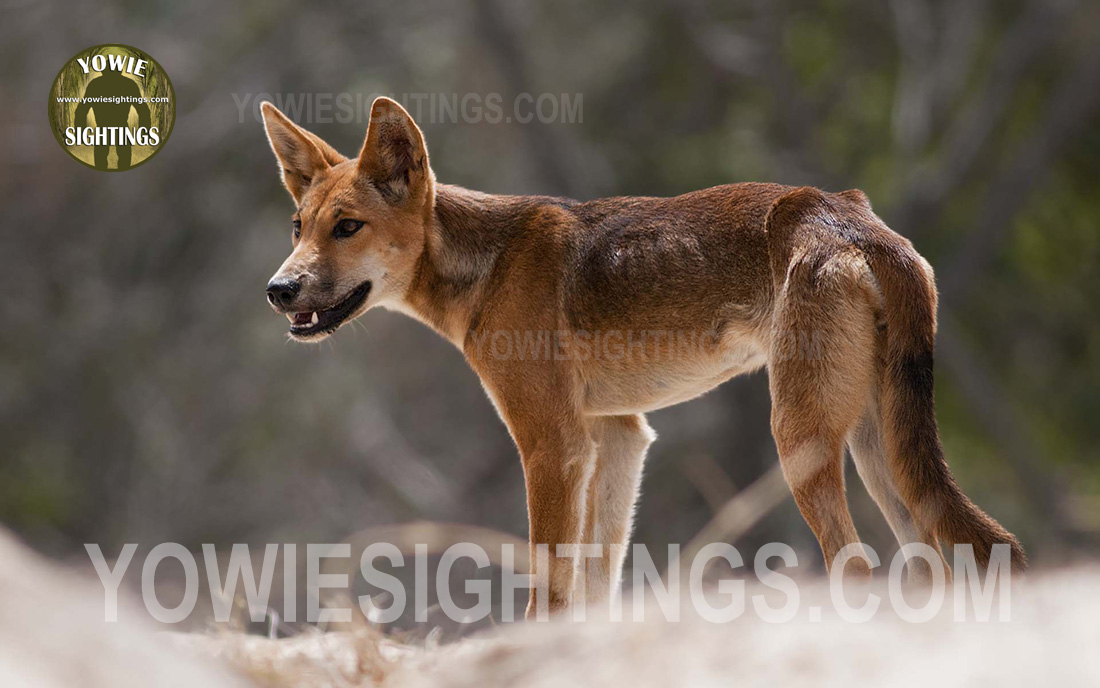 Dingo hunting Yowie - Torbanlea QLD Yowie sighting
This Yowie sighting was told to us by Nigel who was traveling along Churchill mine rd near Torbanlea, QLD in May 2017 This is Nigel's account
I saw the most incredible sight one night while driving in my 4WD from Dundathu to Torbanlea along Churchill Mines rd. The road is dirt and I had been watching my speed not only due to the gravel road but also my concern for kangaroos jumping out in front of me. It was a dark night and the only illumination was from my lights. I came onto a straight stretch of road when way out on the edge of my lights reach I saw a dingo run onto the road followed by another.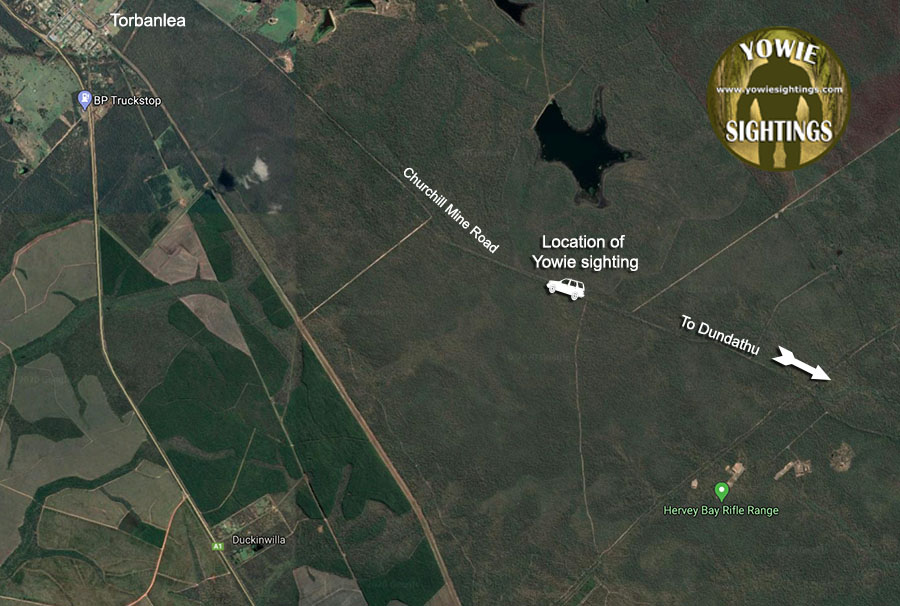 I backed off a little and could see the dogs running quickly along the road away from me as if they were being chased. I got to within about 200m when I watched a massive black furry animal explode from the darkness on my left-hand side and run down the trailing dingo in an instant. It was so fast that I didn't quite comprehend immediately what I was seeing. When I first noticed the movement of the animal in the dim light off to the side of the road I instantly thought cow but as it burst onto the road and its massive size, speed, and its strange galloping movement became evident I realized this was no cow and I slowed rapidly skidding to a stop on the gravel. I was looking at the creature from the side on and behind and what shook me was that it was running on all fours and looking like a giant hyena. The chase was over so quickly and in an instant, as the creature ran up on the dingo it delivered a single heavy blow with its front arm that was so brutal it squashed the dingo into the ground, killing it instantly and raising dust from the gravel road. I couldn't believe it as I could now see the creature had arms at the front, not legs. What happened next just added to my total astonishment. The creature scooped up the limp dingo in one of its hands which I had originally thought were its feet and then stood upright on two legs and towering in the middle of the road. I kept saying to myself "no way" and I was mesmerized with what I was witnessing. I was sitting in my 4WD and this thing would have been 3 or 4 feet taller than my vehicle. After a couple of seconds, the creature turned its massive body back towards the roadside, apparently oblivious to my lights and walked back into the bush on 2 legs, carrying the limp Dingo by a back leg and disappearing into the night. From side on the creature was so thick, its body was huge but its head seemed small in comparison. I couldn't see any facial features as it walked off into the darkness, just a big black, muscle-bound, furry creature that walked like a human. I started to move again slowly deciding whether I should turn around but I continued and when I approached the position on the road where the creature killed the Dingo I couldn't see any sign of it in the surrounding bush and I wasn't going to stop to look for it. The experience shook me and still causes me anxiety if I'm out in the bush on my own.
Great report by Nigel!!
We are currently investigating several other accounts reported to us describing the hunting activity of Yowie. These will be posted to the blog in due course.
Yowie sighting reports published on our blog are provided as-is. We don't publish reports received until we have interviewed the witness or witnesses either in person or by phone.
If you have a Yowie sighting you would like to share and help with the research please leave some details below and we'll be in touch. You can remain anonymous but we will need to speak with you before we can publish an encounter.